GET YOUR BASELINE.
SET YOUR GOALS.
OPTIMIZE YOUR HEALTH.

The NEXT|HEALTH Baseline is a next-level health overview that measures over 50 biomarkers to assess your overall health status, including inflammation, hormones, metabolism, immunity, and more).

You can deep dive into your current state with the Total Baseline version that adds even more biomarkers to an already detailed overview of your current health. Select your Baseline Below and start your journey.

This test is the perfect starting point for your health optimization journey.
Book your Baseline Today.
The NEXT|HEALTH Total Baseline is a next-level health overview that includes the entire NEXT|HEALTH Baseline test and goes even deeper with panels that measures thyroid health, heavy metal levels, and autoimmune markers.
BIOMARKERS INCLUDED IN BASELINE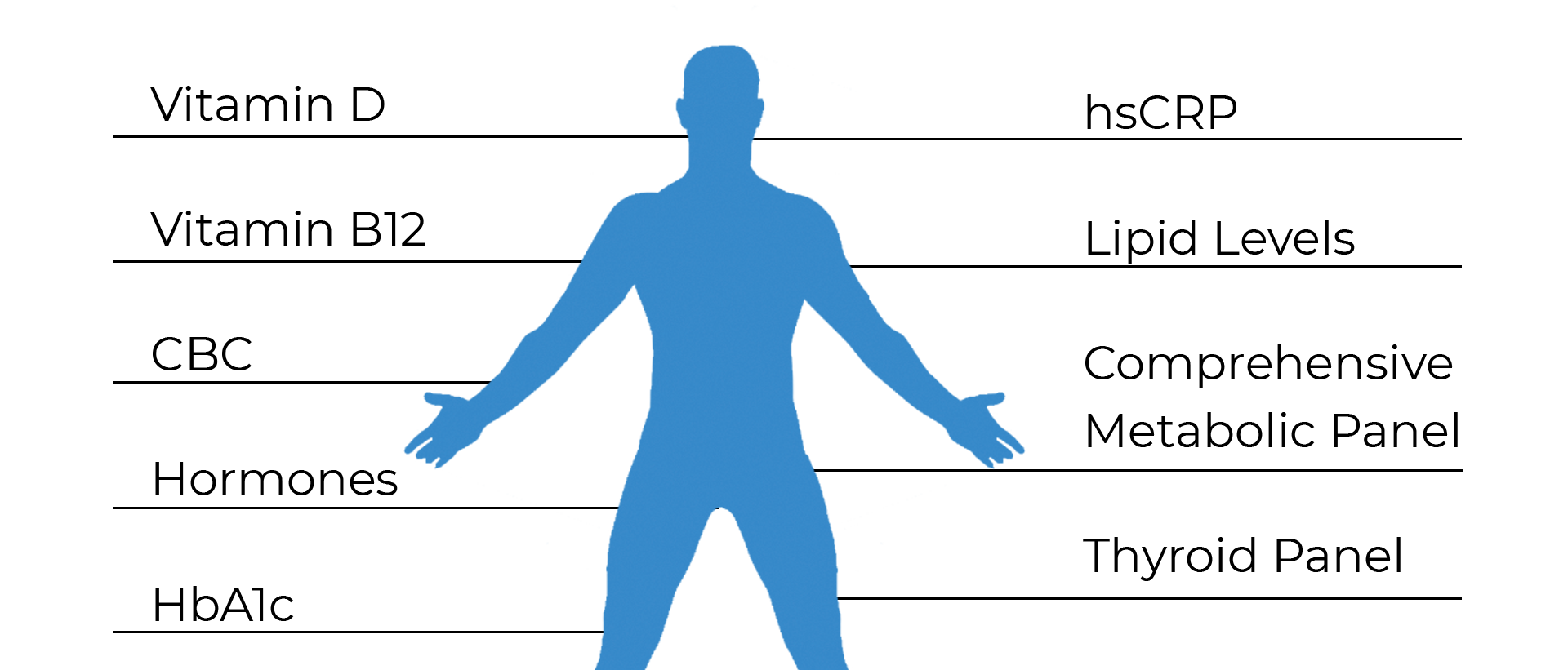 CBC (COMPLETE BLOOD COUNT)

CBC levels provide insight into overall health and can detect a wide range of disorders or infection, including leukemia, anemia, and blood clotting.

HIGH-SENSITIVITY CRP (hsCRP)

C-Reactive Protein (CRP) is a marker of systemic inflammation, which has emerged as a powerful predictor of coronary heart disease and other cardiovascular diseases. Elevated hsCRP has been associated with depression and impaired cognitive function in seemingly healthy people.

Glycated hemoglobin (HbA1c) reveals your average blood sugar levels over the last 2-3 months. This is an important marker to evaluate diabetes risk, heart function, and cholesterol particle size.

B12 is an energy powerhouse. It plays a key role in DNA, nerve, and blood cell production and is crucial for healthy brain function, metabolism, and immune health. This essential vitamin plays a major role in regulating your mood, energy levels, heart health, memory, digestion, and skin health.

Known as the "sunshine vitamin," vitamin D is produced by the body when skin is exposed to sunlight. It also occurs naturally in a few foods, including some types of fish, fish liver oils, egg yolks, and is added to fortified dairy and grain products. If you shun the sun, suffer from milk allergies, or follow a vegan diet, you may be at risk for vitamin D deficiency.

COMPREHENSIVE METABOLIC PANEL

The CMP provides important information about the current state of your metabolism, including kidney and liver function, as well as electrolytes, acid/base balance, blood glucose, and blood proteins. These markers are also used to monitor known conditions like hypertension, as well as to monitor medications that may have kidney or liver-related side effects. ​

Hormones act as chemical messengers, delivering signals that regulate many important functions within the body. They control simple needs, like hunger signals, as well as more complex systems, like reproduction and mood. Hormonal imbalances can lead to symptoms like weight gain, fatigue, depression, and other serious conditions. Knowing your levels is the first step to optimizing your hormones, which can have a profound impact on your overall health and wellbeing.

FSH
Free & Total Testosterone
This panel measures all thyroid-related biomarkers to diagnose Hashimoto's, iodine deficiency, and proactively reveal early signs of thyroid dysfunction. Suboptimal thyroid function is a common cause of fatigue, hair loss, weight gain, weakness, and depression.

BIOMARKERS INCLUDED IN TOTAL BASELINE
The following is included in addition to the biomarkers listed in the regular Baseline test.
This metabolic panel and heavy metal toxin screen reveal any kidney or liver strain that may hinder healthy detoxification. Toxin accumulation can lead to inflammation, cardiovascular disease, hormone imbalances, and Alzheimer's disease.

Dehydrotestosterone is a metabolite of testosterone. Dihydrotestosterone has a number of effects on the human body. In addition to serving as a stronger form of testosterone, it is also a precursor of other steroid hormones. Imbalances for DHT can affect various areas of the bodies. Being wary of these levels can benefit yur health journey.

This tests both rheumatoid factor (RF) and ANA. These biomarkers indicate if your body is producing antibodies and potentially attacking its own tissues.

Folate (vitamin B-9) is important in red blood cell formation and for healthy cell growth and function.

LPP PANEL (NMR): There is the "gooD cholesterol" HDL (High Density Lipoprotein) and "bad cholesterol" LDL (Low Density Lipoprotein. However, different types of HDL and LDL exist and some are much more dangerous than others. An LPP panel determines the specific number of particles in both HDL and LDL for a much more accurate assessment of risk. For example, the LPP panel measures RLP (remnant lipoprotein) and Lp(a), both very atherogenic, but with very different effective treatment options. A standard cholesterol test does not provide this data, hindering the ability to decide on the most effective clinical treatment for you.

INFLAMMATION HOMOCYSTEINE

High homocysteine levels may mean you have a vitamin deficiency. Without treatment, elevated homocysteine increases your risks for dementia, heart disease and stroke.

The Iron Panel is used to help monitor liver function and nutrition.

The Iron Panel is used to help monitor liver function and nutrition.

---